Endowment Partnerships
Central Kentucky Community Foundation works with all three community sectors: public, private and nonprofit. When the three work in harmony, we advance the individual, strengthen the family and maximize community and economic development. One of the purposes of a community foundation is to strengthen nonprofits because they deal with the current issues of life and are critical to the delivery of daily social solutions to the challenges faced by our citizens.
CKCF assists nonprofits with:
Board Development and Governance issues by consulting with staff on specific issues such as how to build an active, strategically focused Board of Directors, by conducting Board Retreats and Board orientations
Marketing and Fundraising by helping nonprofits develop effective outreach programs to recruit and retain donors
Advising the Board on attracting, developing and retaining staff and volunteers
Pursuing constructive alliances, partnerships, collaboration and cooperative ideas
Helping nonprofits realize the need to embrace business skills and processes essential to addressing their needs
Endowment Partnerships
Our region's nonprofit organizations face many challenges in carrying out their missions. Strengthening nonprofits is part of CKCF's mission. Many nonprofits take advantage of CKCF's financial services through an Agency Endowment Fund to plan for their long-term sustainability. CKCF handles all administrative functions by investing, accounting and making distributions from nonprofits' Agency Endowment Funds.
This year, two community organizations became Endowment Partners with CKCF.
CASA of the Heartland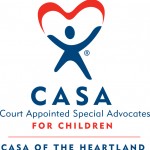 CASA of the Heartland supports and promotes court-appointed volunteer advocacy for abused and neglected children. As a growing organization, their board took this next step to ensure their longevity in the community. "CASA of the Heartland is very excited to establish the CASA Endowment Fund in partnership with the Central Kentucky Community Foundation," said Chris Ordway, CASA Board Chairman. "This local philanthropic opportunity made available through CKCF represents another very important sustainability milestone in the life of our organization and mission of representing the best interest of children caught up in abuse and neglect cases within Hardin County Family Court."
Clarity Solutions for Women
Clarity Solutions for Women, provides faith-based counseling, education and resources to women facing unexpected pregnancies. Recent expansion of services and facilities makes establishing an endowment fund even more important for Clarity.
"We are excited about this endowment because it helps us focus on our future," said Dr. Marquita Ball, chair of Clarity's Board of Directors. "Helping women and their babies thrive during and after an unexpected pregnancy is important to help our community build and maintain strong, healthy families. This partnership with CKCF helps ensure the future of the ministry."
CKCF can also assist nonprofit organizations through the Endow Ky Tax Credit program, which is available to donors to endowment funds at CKCF. An Endow Ky gift can benefit the nonprofit organizations a donor chooses.